Fall Open House
Join us for the Fall Open House on Friday, August 28 from 9:00 a.m.–12:00 p.m. Bring your child and tour the school, see the classrooms, and meet the teachers.
Be sure to bring your child's medical forms, any other missing paperwork, and two photos of your child. Plus, bring your calendar and be prepared to sign up for parent-help days for first quarter.
The required medical forms are available for download here.
Returning families are invited to arrive between 9:00–10:00 a.m. New families, please arrive between 10:00–11:00 a.m.
We look forward to seeing you there!
Introducing Jill Aldrich, 2s/3s Teacher
Please join us in welcoming Jill Aldrich as the new 2s and 3s teacher at Community Preschool!
Miss Jill is a Loveland native and has always lived in or nearby the area. She and her two brothers were even students at Community Preschool when they were children!
She attended the University of Northern Colorado and graduated with a bachelors degree in Communications and Elementary Education in 2003. During her student teaching, she taught 5th grade and 2nd grade. After graduating, she was hired at Truscott Elementary where she taught 3rd grade for two years and 1st grade for three years.
Miss Jill and her husband Art have two daughters, Isabella and Mia. She had the pleasure of staying home with both of her girls since their arrivals. Isabella will be in first grade this year, and Mia will attend classes at Community Preschool.
We're so excited to have Miss Jill at Community Preschool!
---
Registration for 2015–2016 School Year
We are registering for the 2015–2016 school year, and we have openings in the following classes:
3s Miss Jill Monday/Wednesday (9:00–11:30 a.m.)
3s Miss Jill Tuesday/Thursday (9:00–11:30 a.m.)
4s Mrs. Martinez PM Monday/Tuesday/Thursday (12:45–3:15 p.m.)
4s Ms. Jodie Pre-K Monday/Tuesday/Wednesday/Thursday (9:00 a.m.–12:00 p.m.)
If you are interested in registering, please follow these steps:
Download and complete the 2015–2016 Registration Packet.
Be prepared to pay the non-refundable $70 registration fee.
Contact the class coordinator for the class you're interested in here:
Registration packet pages 6–7 including the Student Health Record and Immunization Record will be due at the Fall Open House on August 28. These pages must be signed by your health care provider after June 1, 2015, and must be on file before your child will be allowed to attend classes.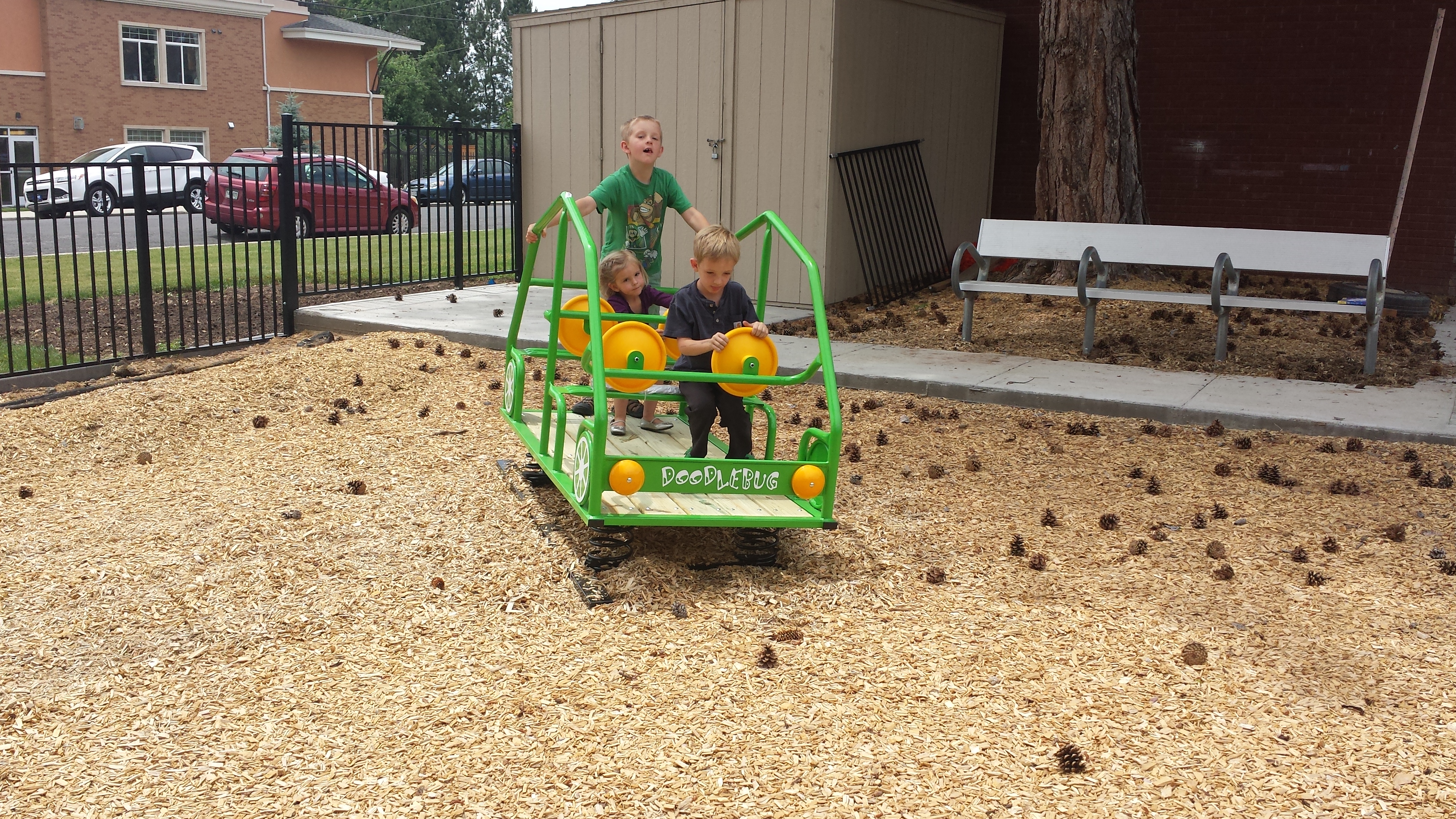 The Doodlebug Wins!
We're very excited to announce the winner of the playground equipment vote! The Doodlebug is now on our playground and ready for the children to enjoy this Fall!
---
Announcing Mrs. Miller's Retirement
We are sad to announce that our beloved Mrs. Miller is retiring from Community Preschool to allow more time with her family. She will be greatly missed, but we understand and support her decision to make family her priority at this time.
Mrs. Miller's children attended Community Preschool, and she then became one of our wonderful teachers in 2002. Her passion for teaching has been an amazing gift to our school and our children. Thank you, Mrs. Miller, for your loving instruction. You will always be a part of our Community Preschool family.
We encourage families past and present to share memories, kind words, and well wishes for Mrs. Miller. We will compile them and pass them on to her as a token of our gratitude. You can e-mail or post to the Community Preschool Facebook page.
On the bright side, our own artistic, talented, generous Ms. Jodie will teach the Pre-K 4/5s class and be the new Associate Director of Education.
We will keep you updated on the process of searching for a new teacher for our 2s and 3s classes, and make an announcement as soon as we have news to finalize.
Thank you.
---
Groundbreaking News!
The excavation of the extended play area is complete! Pictured is our groundbreaking crew: Emily Weakland, playground committee guru; Mrs. Laura Martinez, executive director; Rosa Crawford, board president; and CPS student helpers!