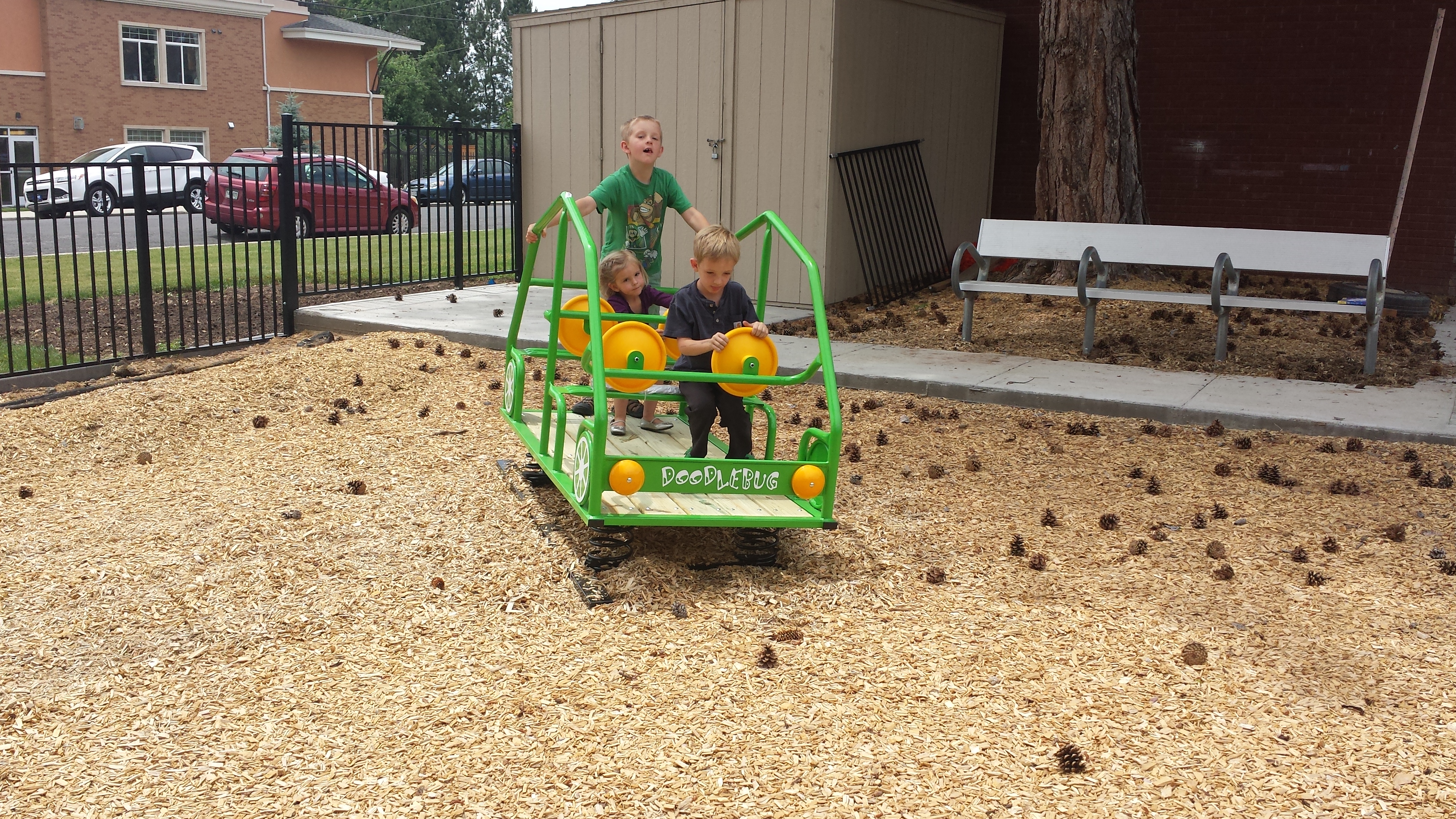 The Doodlebug Wins!
We're very excited to announce the winner of the playground equipment vote! The Doodlebug is now on our playground and ready for the children to enjoy this Fall!
---
Announcing Mrs. Miller's Retirement
We are sad to announce that our beloved Mrs. Miller is retiring from Community Preschool to allow more time with her family. She will be greatly missed, but we understand and support her decision to make family her priority at this time.
Mrs. Miller's children attended Community Preschool, and she then became one of our wonderful teachers in 2002. Her passion for teaching has been an amazing gift to our school and our children. Thank you, Mrs. Miller, for your loving instruction. You will always be a part of our Community Preschool family.
We encourage families past and present to share memories, kind words, and well wishes for Mrs. Miller. We will compile them and pass them on to her as a token of our gratitude. You can e-mail or post to the Community Preschool Facebook page.
On the bright side, our own artistic, talented, generous Ms. Jodie will teach the Pre-K 4/5s class and be the new Associate Director of Education.
We will keep you updated on the process of searching for a new teacher for our 2s and 3s classes, and make an announcement as soon as we have news to finalize.
Thank you.
---
Thank You for Your Help at Our Playground Work Day!
We're making progress on the playground. On Saturday, we prepped the playground for the curbing to be poured around the mulch area, and we placed a new bench. Thank you to those who came and helped!
A special thank you to Pioneer Sand Company in Berthoud for generously giving us the structural material we needed at a discount, and to Pelican Jo's Pizzeria in Windsor for donating pizza for our hungry workers!
---
Registration for 2015–2016 School Year
Our registration for the 2015–2016 school year is open.
We have openings in the following classes:
3s Ms. Jodie's Monday/Wednesday (9:00–11:30 a.m.)
3s Ms. Jodie's Tuesday/Thursday (9:00–11:30 a.m.)
4s Mrs. Martinez PM Monday/Tuesday/Thursday (12:45–3:15 p.m.)
4s Mrs. Miller's Pre-K Monday/Tuesday/Wednesday/Thursday (9:00 a.m.–12:00 p.m.)
If you are interested in registering your child for classes in the Fall, please follow these steps:
Download and complete the 2015–2016 Registration Packet.
Be prepared to pay the non-refundable $70 registration fee.
Then contact the class coordinator for the class you're interested in here:
Registration packet pages 6–7 including the Student Health Record and Immunization Record will be due at the Fall Open House. These pages must be signed by your health care provider after June 1, 2015, and must be on file before your child will be allowed to attend classes.
Let the Games Begin
Children learn best when activities are meaningful to them. Experts in the early development of mathematical concepts tell us that children develop mathematical understanding in situations in which number and quantity are relevant and important to them.
Games provide the opportunity. Playing games is a wonderful way for children to share time with family members, to have fun, and to learn. Kids love to play games with their favorite grown-ups.
In simple card games such as Go Fish, Concentration, or Crazy Eights, children learn many different things. They identify numerals, match numerals or objects, and practice memory skills. They also develop fine motor skills by picking up and handling the cards.
By playing dominoes or games with dice, children learn to count the dots and to relate those dots to the number they represent. Moving game pieces the right number of spaces on a board adds the concept of one-to-one correspondence, and constantly comparing the rolled numbers helps develop number sense.
The games we choose should be appropriate for the age of the child. With commercial games, look for the age recommendations on the game box. Remember, noncompetitive games are best—young children hate to lose.
As we play games with children, we can extend their mathematical thinking by asking simple questions: How many matches did you get? Do you have more red cards or more black cards? Would you lie to deal us six cards each? Continued opportunities to play games and talk and think about number concepts help children develop their own math understandings.
Source: Family-Friendly Communication for Early Childhood Programs; Deborah Diffily and Kathy Morrison, Editors; Copyright © 1996 by the National Education for the Education of Young Children
---
Playground Update
We've made such progress! On Thursday, May 14 we put down the weed barrier. Then on Friday, May 15, Ground Solutions placed the mulch! During the month of June, concrete curbing will be installed to secure the edges so the mulch stays in place. And we have a wonderful, large area for new playground equipment!
In the meantime, we're continuing our fundraising and working to get new equipment for the children to enjoy. Keep voting with your pocket money in the equipment change jars in the hallway, and keep in mind that the deadline for the playground brick fundraiser is this Friday, May 15!
Please continue to watch your e-mail, this website, and our Facebook page for updates about the exciting progress on the playground! For all of the details about the playground project, please visit the Playground page.
Groundbreaking News!
The excavation of the extended play area is complete! Pictured is our groundbreaking crew: Emily Weakland, playground committee guru; Mrs. Laura Martinez, executive director; Rosa Crawford, board president; and CPS student helpers!